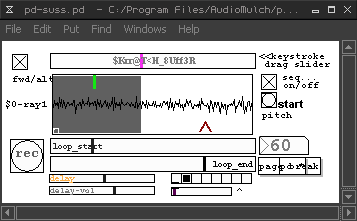 pd vst plug-in
………… ………………………… ………….
*pd-suss
Plug-in I built with J.Sarlo's Pd-VST to use inside Audiomulch.
Similar to js_mini_sample vst, or ioplong relofter by andreas.
Samples audio, plays forward/alternate between loopstart & loopend,
control pitch/speed, also has Delay effect controls. plus Scratch feature - (scrubbed buffer sequencer)
screenshot ........
DOWNLOAD here pd-sussV2
This pd vst plug-in was made possible thanks to Joseph A. Sarlo
and of course Miller Puckette and all programmers of externals. 
Download Pd-VST from: http://crca.ucsd.edu/~jsarlo/pdvst/
**PdVst- VST - Pd bridging plugin
Joseph A. Sarlo
………………
………… contact -     forbes_mitchell [at] hotmail.com ……….
………………….
BACK +-